IrishGrl
Oct. 5th, 2007 07:22 pm

It's been a long time since I have posted, I'm not really posting anymore due to hardly any of my friends actually using this site now! Seems kind of pointless. But I'm still alive! Not loving the rain but loving life in general :)

Leave a comment
Jul. 10th, 2007 08:37 pm

Man it's hot this summer! Today is the first day where I have really felt the heat. Gotta love our air-conditioned buses! They make it more bearable.

This summer has been so busy for us! Seems like every weekend and some days in between we are booked every night. It's been great but kind of taxing on the wallet. I am looking forward to building up more $$ again!

My cousin came beginning of July which was so great! I will post some pictures from his visit. We did alot of touristy things with him and his 2 friends. The latest was our day trip to Seattle last Saturday for the Kenny Chesney Flip Flop Summer Tour. SOOOO awesome if you love country music! What a fantastic lineup as well!!!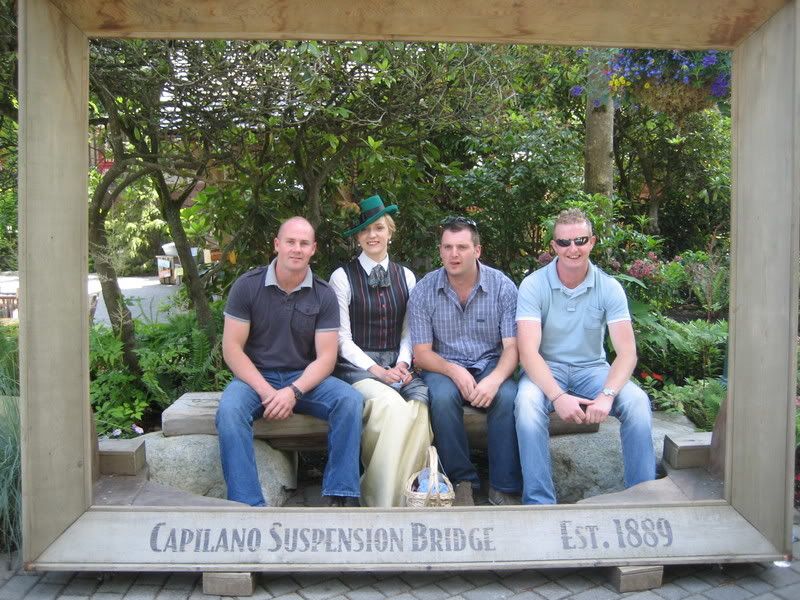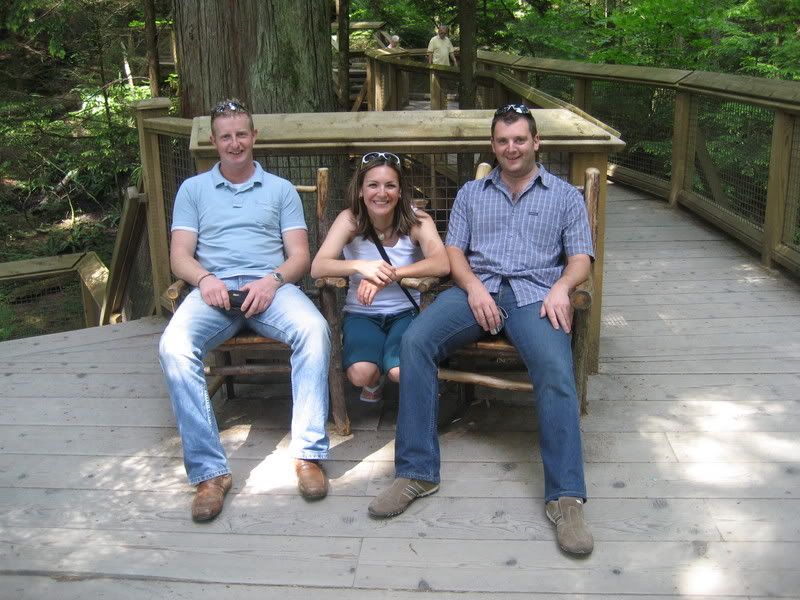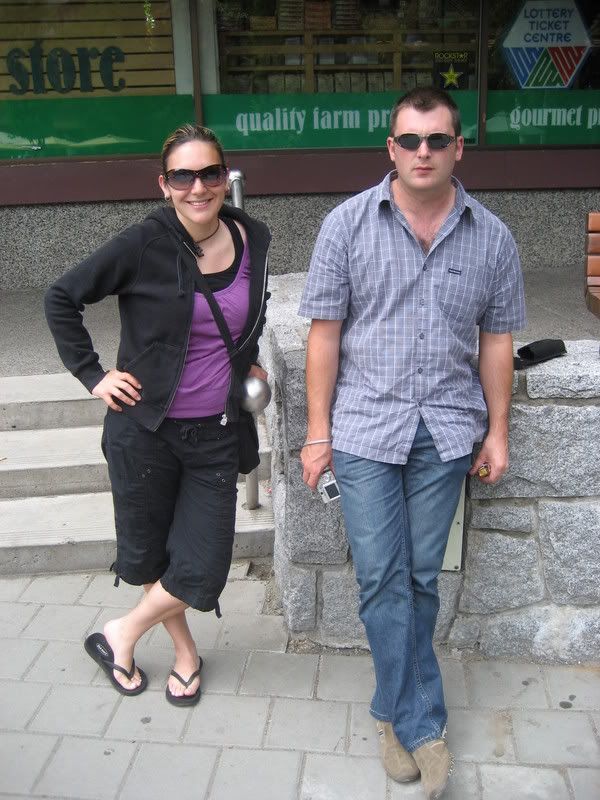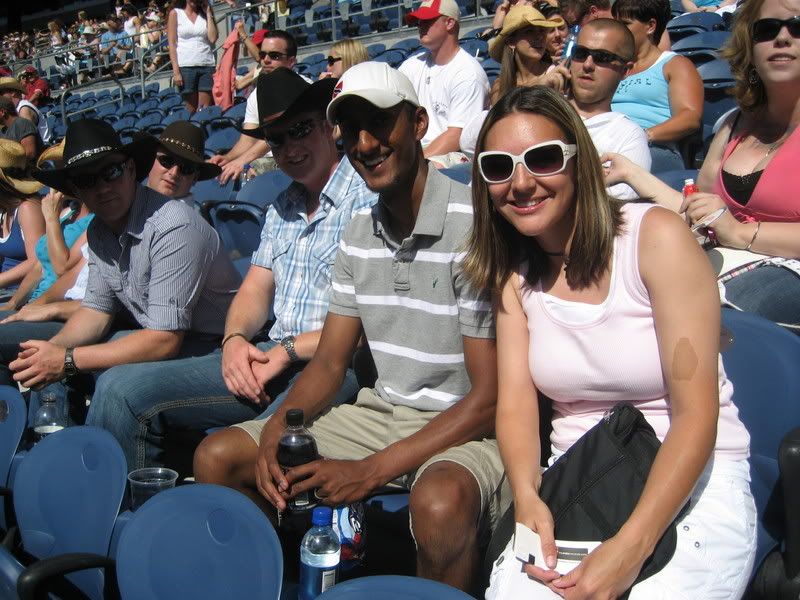 1 comment - Leave a comment
Jun. 26th, 2007 07:24 am

i dont know why i haven't felt like updating livejournal recently. it's been awhile! the summer has been pretty busy so far - went on a fun roadtrip to alberta and saskatchewan. lots and lots of driving but kevin did it all!! i kept asking if he wanted me to take over and drive a bit but he likes to drive i guess.

i did my bus roadeo for work this past sunday - they set up hard obstacle course to go through on your bus. you also have to do a pre-trip and a written test. the winner gets to go to new orleans to compete in the big one! i dont think i won but i had a good time!!!!

vivian is coming from ireland this saturday - can't wait!

2 comments - Leave a comment
Jun. 4th, 2007 08:56 am

guess it's time for the weekend update!!! didnt do much during the week - it's getting so hot out lately! the whole week was brutal, especially saturday and sunday. our apt gets so hot - we went out and bought 2 extra fans but they don't seem to do much. right now im sitting with the big black fan directly on me! at least its cool that way.

we had a great weekend as usual!!! went for a date dinner at red robins (fancy i know!) with kevin and then went grocery shopping for stuff for saturday. i still had to work on saturday but after work kevin and justin picked me up at haney place with the bikes. justin hung around for the rest of the afternoon, poor guy got dragged to all my errands!!! i had kevin's cousins over for a potluck that night - it was the one weekend in june that shane was free and he wanted to see the place. it was so much fun!!! kevin's cousins are really great and it's always a good time when we get together. shane stayed for quite awhile afterwards and we had a great convo.

on sunday we relaxed a bit in the morning and then took izzi to white pine beach. we weren't allowed on the beach with the dog but walked the trail around the lake. it was a hot day but the trail was shadowed by trees and izzi got to jump into the water alot. after white pine we grabbed lunch and then came back here. becky came over for a really good bbq dinner of salmon, potatoes and asparagus.

today i have to go return some library books - thats the fun of my day!

Leave a comment
May. 31st, 2007 04:53 pm

i finally have a few pics of my patio! it's not the greatest patio but i love it! we bought it from superstore on sunday. the rest of my weekend was awesome, sunday was an errands day. on monday i had the day to myself. i picked fern up and we went to tim hortons where we ran into kelly and damon. had a fun lunch there and then went for a walk with izzi on the trails by her house. these trails are by far my fav lately and i've been taking izzi there ever since. there is an awesome river/creek where izzi goes in and cools down.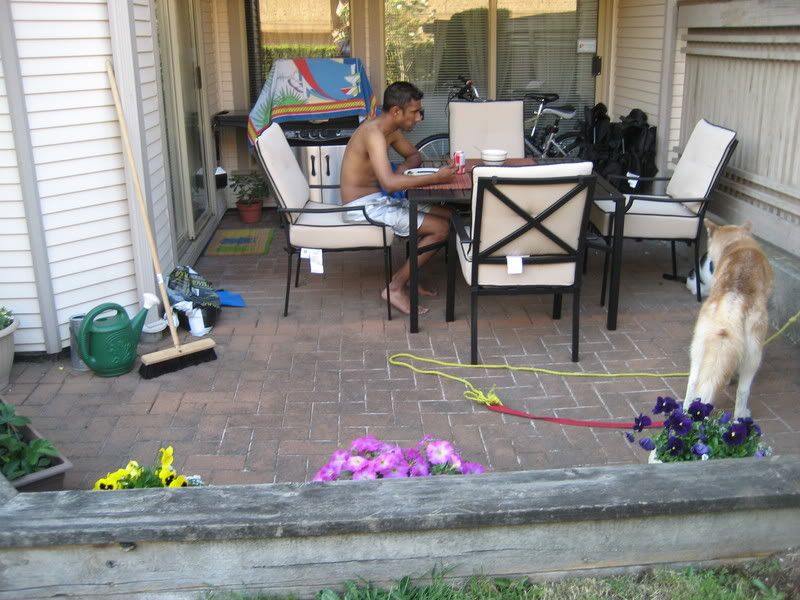 my herb garden!!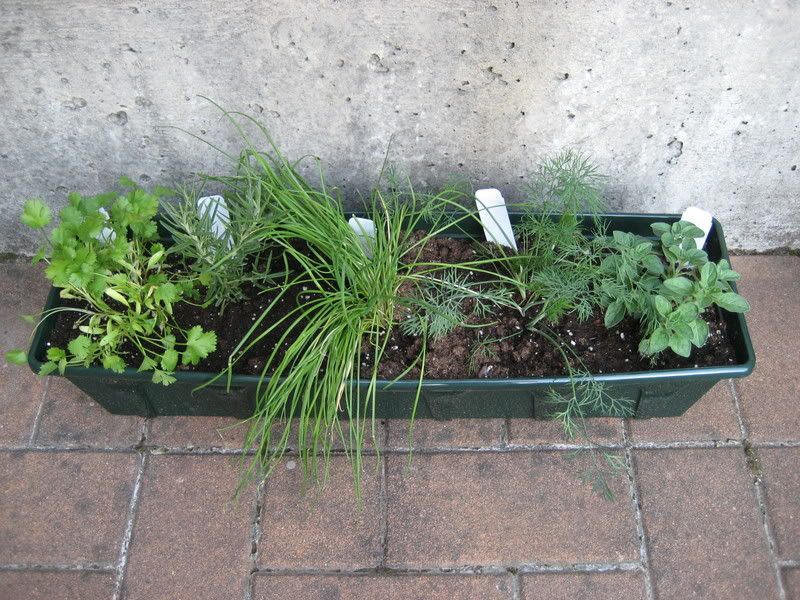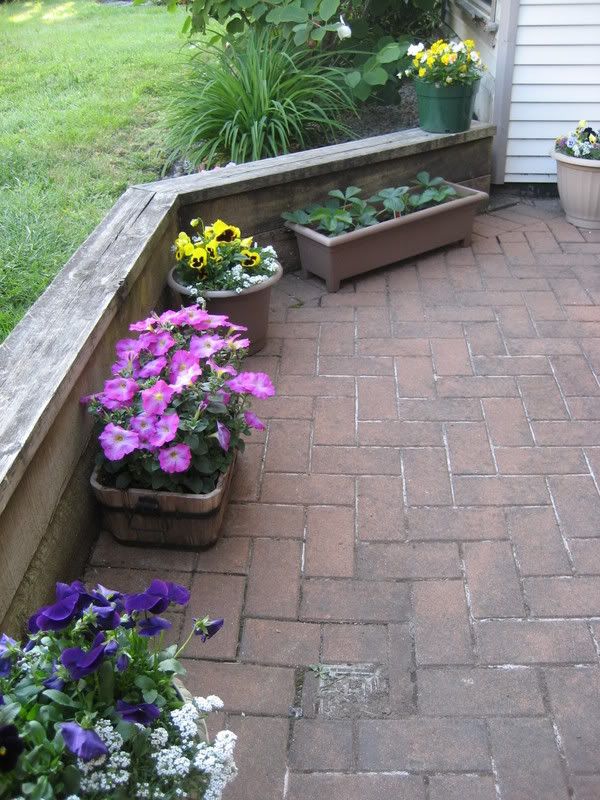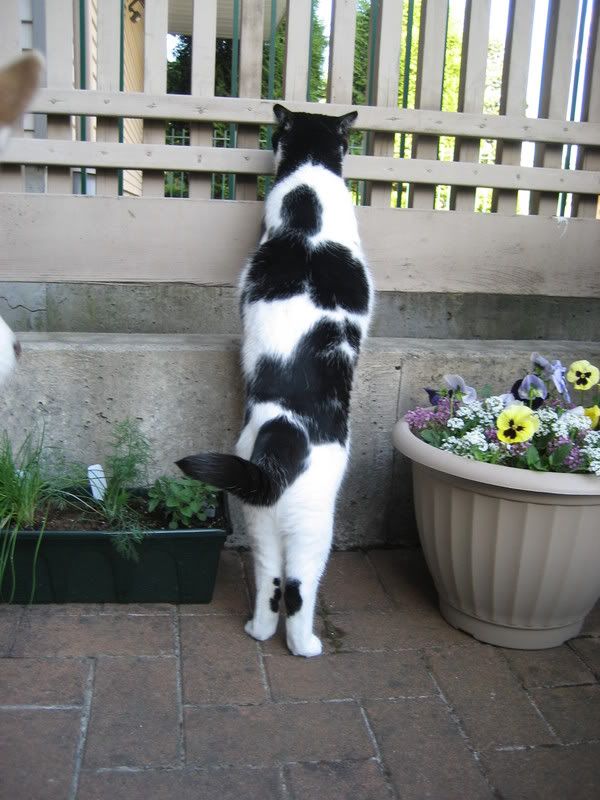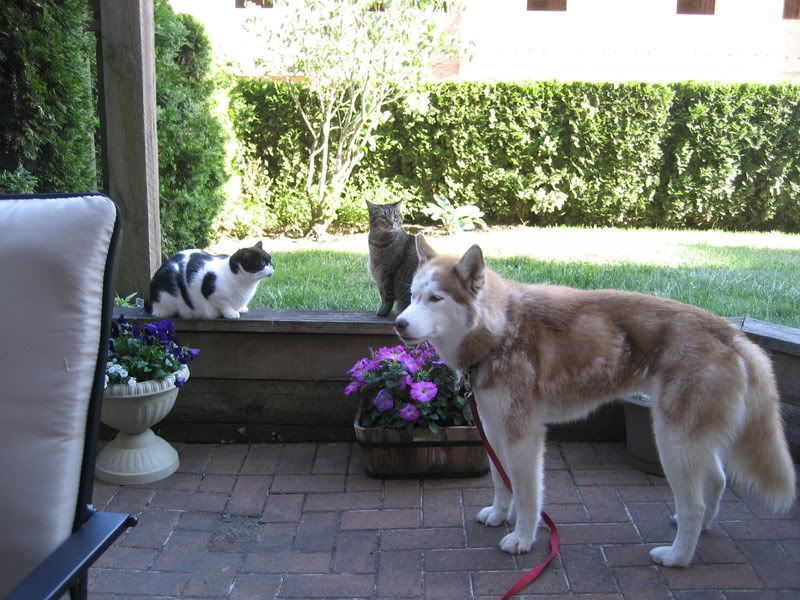 1 comment - Leave a comment
May. 27th, 2007 08:24 am

i have been having a great weekend so far! on friday night we picked up claudia and joined michelle and wes and their kids to see pirates of the caribbean! it was such a long movie - 3 hours! i enjoyed most of it but also felt a bit squirmy in my seat! it was liam's 12th bday party so there were lots of little boys with us! claudia spent the night so i took saturday off. we had breakfast together and claudia brushed and entertained izzi while kevin and i did our saturday morning clean. normally he does most of it while i'm at work but i finally got to help!

after driving claudia home we met up with the guy that bought my car. that's right, my car is officially sold! i listed her for a week and the guy called right away, he was our only caller until yesterday! thanks for making selling my car super easy! after the transaction was complete on my car we took the bike to sheldon and grace's where we bought sheldon's jeep cherokee! so now we have an suv and it's so much better for the dog. lots of room!!!!

saturday night we went for dinner at kevin's parents and then after came home and had susan and vic over. fun fun weekend so far!

today we are going to buy PATIO FURNITURE! i'm so excited, can't wait to finish up my patio! i'll take pics.

Leave a comment
May. 23rd, 2007 07:21 am

we had a really busy and for the most part great long weekend!! friday we stayed at home and rented movies, catch and release and alpha dog. both were awesome! on saturday i had to work but thats ok, i get off early that day! we went out for dinner with kelly and fern that night, 2 friends of mine from work. had a fun night with them, it was the first time kelly and kevin met!

then finally sunday, the first day off of the long weekend!!!!! we had a get-together at michelle's for liam's 12th bday at 2pm so we went grocery shopping first. we had a fabulous time at michelle's - happy birthday liam! we are going with them on friday to see pirates of the caribbean! we were supposed to go to janine's bday dinner in vancouver at 7pm but couldn't get there for reasons i cant say. i feel bad that we weren't there and would have loved to have seen her.

sunday morning we went for a walk with a new friend of mine and her fiance at rocky point. it was a nice morning for a walk, not too hot but no rain either. then i picked claudia up and we all took our bikes out and izzi for a ride along the dyke here in poco.

im loving this weather - i've been planting tons of flowers outside and i cant wait to get a patio set, we will probably be getting one finally this weekend! then i can really enjoy my patio! we've sold suzy (my car) and the guy is picking her up this weekend. we are also buying sheldon's truck - a grand cherokee i think?? wahoo!!! stay tuned!

Leave a comment
May. 15th, 2007 07:22 am Flowers

Picked Susan up last night after dinner and went to find some flowers to plant in our pots/boxes. The prices were right at Superstore and I got some petunias, pansies, martha washingtons, a few more I can't remember the names of and some strawberry plants! Can't wait to plant those, I hope I actually get the fruit from them. My mom had them when I was a kid and I remember grazing in the garden - they were so good!

We ran into our maintenance guy and he said I can basically do what I want flower wise to the surrounding yard area too bc they just do the basic shrubs and stuff - no flowers really. But there is a huge lilac tree outside - white lilacs and I'm going to pick some today and put them in my room!

Leave a comment
May. 14th, 2007 05:48 pm last day off..

3 entries today! crazy!

i've had a great day off today, met up with susan for a nice walk with her and izzi. we went up along cedar drive and then down the hyde creek trails. izzi was off leash and kept running back and forth in and out of the water - she had a blast!!!

couldn't go riding with andre today but went with kelly instead - we went on the poco trail and it was the first time i actually used the bike for mountain type riding! had a nice hour and 45 min ride - great exercise today!!!

we have put the sunfire for sale - ya ya!

Leave a comment
May. 14th, 2007 09:12 am

i was a supervisor at my old job and since then i've had a few of my old co-workers ask me if they can use me as a reference. i've always said yes but no one has called yet until today - gave a nice reference for a friend and she just texted me to let me know that she got the job! i'm happy for her bc she really needs it and it's a great step towards her and her new career!!! yay!!!!!! glad something positive came out of that stupid job :P

Leave a comment